When you need furnace repair performed in Portland, you can count on Central Air Heating, Cooling & Plumbing technicians. Our locally owned and operated company is ready for any furnace repair project in the Portland Metropolitan Area. Since we opened our doors in 2001, we've been able to offer high-quality furnace services.
If you're dealing with a critical heating situation, you'll be able to take advantage of our 24/7 emergency availability. Our technicians will arrive at your home with everything they need to complete a furnace repair correctly and get you and your family warm in no time.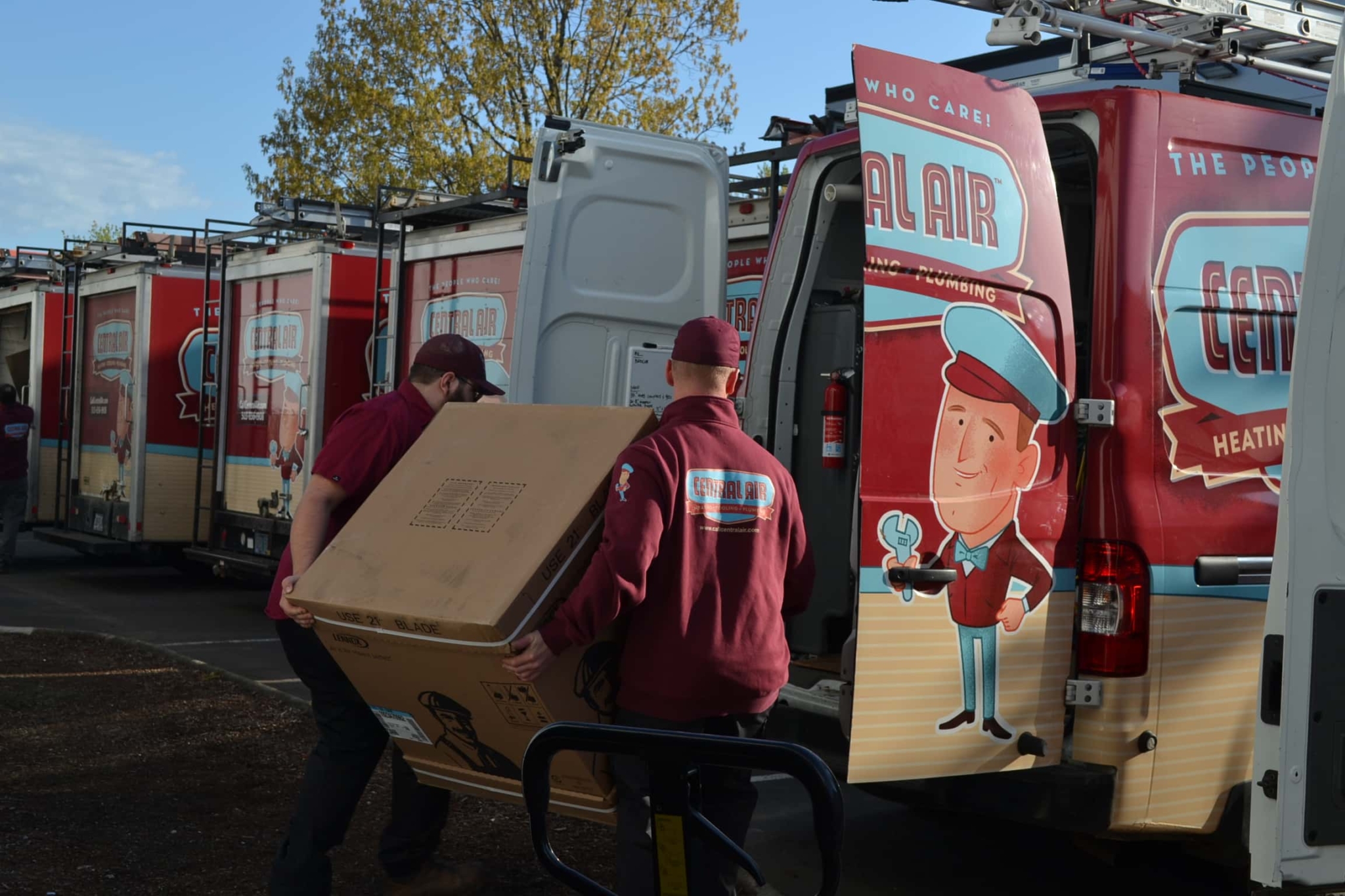 Portland Furnace Repair Services 
If you've noticed your heater making strange noises, the pilot light going out, or the system smelling unusual, let's schedule an appointment and get to the bottom of it. Faulty heating systems could cause a drastic increase in your energy bills, especially during the coldest months of the year, as you're running the heat more often and your furnace is working less efficiently.
When you schedule an appointment with us, we'll determine the cause of your furnace problem and help you understand your options for getting it repaired. At Central Air Heating, Cooling & Plumbing, we use high-quality parts for every repair performed in Portland. Our goal is to get your heating system operating like new. We'll work meticulously in order to make the job go as smoothly as possible. Our repairs will be completed in a timely manner so that you can return to enjoying the comfort of your home.
Common Furnace Issues
Furnace issues come in all types – anything can go wrong. But, unfortunately, you can't figure out exactly why most of the time. As a homeowner, that's frustrating, and that's why Central Air is here to diagnose and repair any furnace problem you're facing. Our technicians will get down to the bottom of the issue and make recommendations for what comes next.
Normal wear and tear, an aged unit finally meeting its end, and plain old bad luck can lead to furnace issues in your home. Here are some of the most common furnace issues you might run into:
Constantly running but not heating your home or areas of your home

Continually running and heating your home but not shutting off

It doesn't turn on at all

The pilot light won't stay lit

Pilot light flickers or isn't a normal color

Cracked heat exchanger

The thermostat doesn't adjust the temperature

Strange noises, such as rattling or banging

Odd smells, like burning long after the annual burn-off

Short cycling on and off in short intervals
Many furnace issues can be solved with three simple troubleshooting tips:
Change the furnace filter

Turn the furnace off, let it sit for five minutes or so, then turn it back on

Check to see if a breaker has tripped
If the above doesn't fix what you're facing, call us and schedule furnace service. Central Air will identify the issue and give you options for furnace repairs.
When Should You Replace a Furnace?
The number one reason to replace your furnace is if you're spending more money on repairs than you would to get a new one. You don't want to keep sinking money into costly furnace repairs if you don't have to. Furnace replacement may be a better deal than repairs when your heating system is old, it keeps having the same issue, or multiple problems are causing it to fail much earlier than it should. No matter why you need a new furnace, Central Air can help recommend whether repairs should continue or you should spend the money on a new furnace.
Need Furnace Repair in Portland? Call Central Air Today
Central Air Heating, Cooling & Plumbing should be the furnace service provider you turn to whenever there's an issue with your Portland heater. Our goal is to offer world-class service that exceeds expectations. Our technicians are fully licensed, bonded, and insured, giving customers the confidence to use our services. Your best interests will be respected, and we can provide advice about the specifics of your situation. You can rely on us to take care of all the small details. Our factory-trained technicians will give every repair and furnace maintenance job their complete attention. Call us today.