If you need AC repair in Portland, Central Air Heating, Cooling & Plumbing is your trusted AC services company. Central Air has served the Portland Metropolitan Area since 2001. We're committed to excellence. Our company offers 24/7 emergency availability. We'll get problems resolved as quickly as possible. Every job in the Portland County and Washington County areas receive our complete attention, and we'll take care of all the small details from start to finish.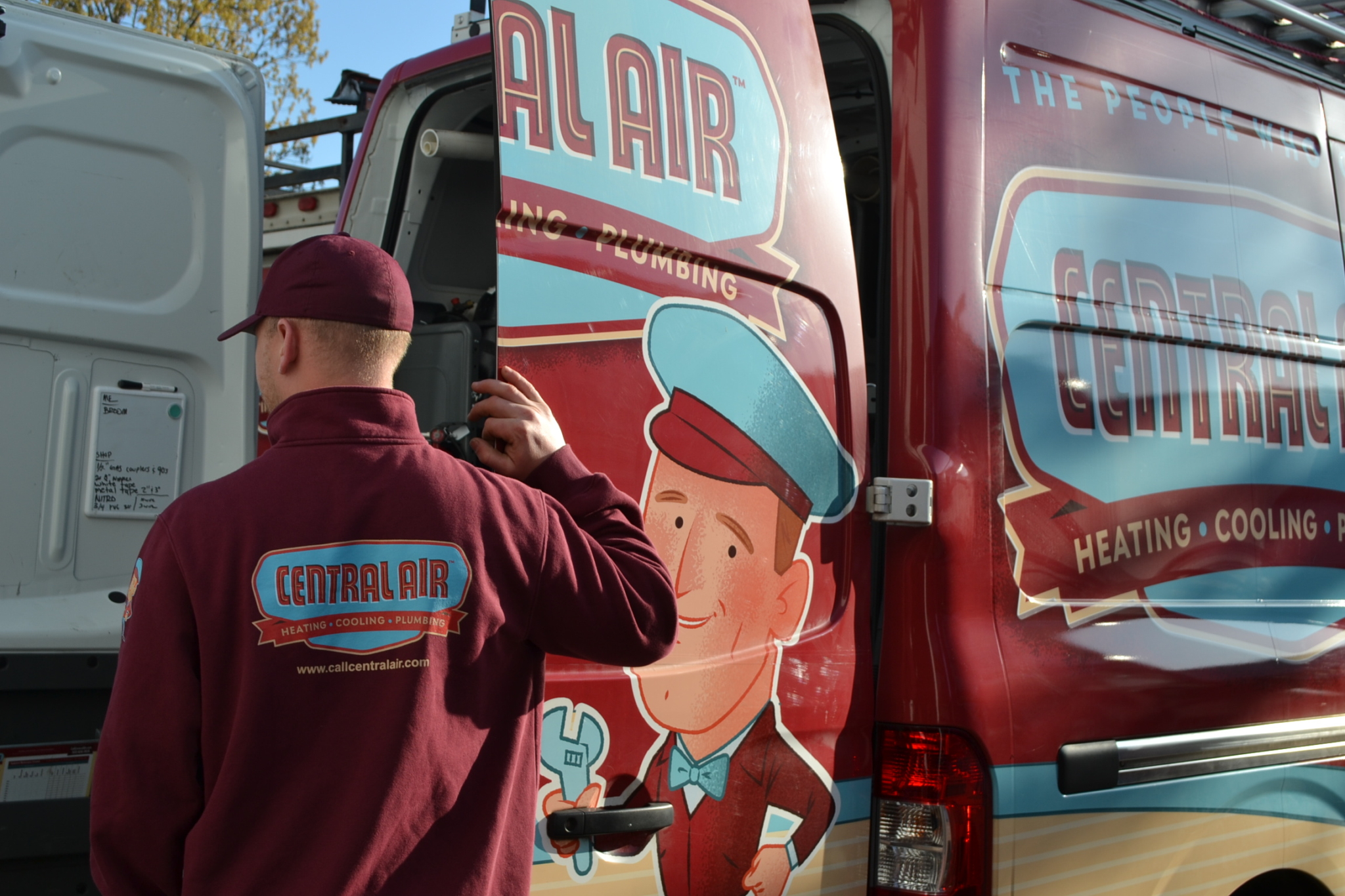 Central Air is known throughout Portland for:
Being locally owned and operated

Easy scheduling

Employing skilled technicians

Offering free estimates
We offer flexible appointment availability and will work around any of your scheduling needs. You can count on us to respect your time and complete AC repair promptly and professionally every single time you call.
AC Repair Services in Portland
Central Air can handle any AC repair you need. We've seen it all over the years. We've repaired even the most stubborn air conditioning issues for our customers and recommended additional solutions when necessary, such as replacement, indoor air quality improvements, and more.
Central Air Heating, Cooling & Plumbing wants to take the stress out of getting a broken AC repaired. We'll arrive at our appointments on time and have all the tools on hand for your air conditioning repair needs. After we assess the state of your air conditioner, we'll explain the various options available for getting it repaired so that it can run like new. 
When Do You Need AC Repair?
Whenever your AC is acting unusual, it's time to call in Central Air to investigate. These are some of the many reasons why you may need AC repair:
Not enough cool air blowing throughout your home

Not enough cool air in certain parts of your home

No cool air blowing at all

The unit is not turning on

Leaking water or refrigerant

Frozen evaporator coil

Electrical failures

Thermostat failures

Short cycling on and off in quick bursts

Constantly running for hours on end

Air leaks due to ductwork failure

Making strange noises, such as rattling or banging

Producing strange smells, such as burning

A sudden increase in electrical bills
Several issues can be resolved at home by trying the following:
Swap out the AC filter and see if that improves airflow

Turn your thermostat off, let it sit for about five minutes, then turn the unit back on

See if your circuit breaker has tripped and flip it back on
If the above doesn't quickly fix what you're facing, it's time to call Central Air and schedule service.
What Causes AC Problems?
AC problems can be caused due to old age, wear and tear, or other random problems that you have little control over. The older an AC system and the more use it gets over the years, the more likely you'll need repairs as the unit continues to age. 
Tackling these issues as they pop up will save you time and money. However, paying for repairs multiple times throughout the year adds up quickly. When the cost of repairs is high, we may recommend replacing your AC system with something newer to save you money long-term rather than continuing to patch it up each time we schedule service.
Why You Need Annual AC Maintenance
Tackling AC repairs is essential, but annual AC maintenance is even more critical to spot those problems before summer rolls in. AC maintenance ensures any repairs are taken care of before you need to use the unit when the temperatures rise. It also ensures your system is running at peak efficiency. This improves its longevity, so you don't need AC unit replacement before it's necessary.
Count On Central Air to Handle All Your Portland AC Repair Needs
We work hard to exceed our customers' expectations so that we can build lasting and trusting relationships with them. We maintain open and honest lines of communication, and our customers are encouraged to ask us questions. By offering sound advice about various situations, we can help people make informed decisions.
At Central Air Heating, Cooling & Plumbing, we want our Portland customers to have a great experience with us. We offer personalized services and strongly focus on providing excellent customer service. Contact us today and schedule AC repair with Portland' trusted AC services company.