#1 AC Repair in Wilsonville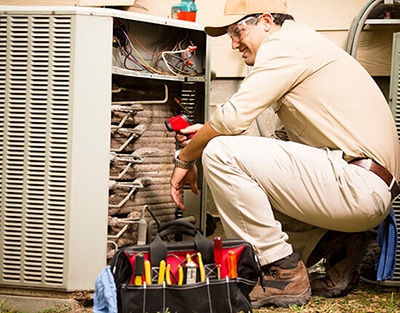 Since 2001, our team at Central Air Heating, Cooling & Plumbing has offered trusted AC repair in Wilsonville, OR, in Clackamas County. We stand firmly behind our stellar track record. Rest assured that our most important goal is to meet your demands in every regard. Our technicians are skilled, competent, and experienced. There is no repair job that we cannot handle. We will service any equipment no matter the brand, make, or model. Trust our team to leave your AC unit operating in peak shape for the long haul.
Reasons to work with us:
24/7 emergency repair services
Long-serving team
Qualified technicians
On-time services
Moreover, we are also renowned for delivering excellent customer service. Each member of our staff is professional and respectful. We aim to make your experience with us go effortlessly and trouble-free. Our staff will make sure that you are listened to and appreciated. We are ready to bring you peace of mind by proving that you're valuable to us. Choose Central Air Heating, Cooling & Plumbing for AC service in Wilsonville.
Wilsonville's Devoted AC Service
A sudden AC breakdown in the middle of the summer can lead to a dreadful experience. Luckily, we deliver quick solutions that are designed to bring you a quick turnaround. At Central Air Heating, Cooling & Plumbing, we offer reliable AC repair services in Wilsonville. Our team always shows up early on every single visit. We possess all the necessary tools needed to handle any job of any magnitude. Whether it's a refrigerant leak or a blown fan motor, we will repair your unit right away. Pay attention to any signs that your AC is backfiring, and let us handle the rest.
Signs your AC system needs repairs:
Leaking water
Strange sounds
Weakened airflow
Short cycles
Additionally, our technicians will respect your household and treat it as if it was our own. We will keep a tidy working site and handle your equipment carefully while adhering to all safety precautions and regulations.
Trusted AC Service
For dependable AC repairs in Wilsonville, our firm at Central Air Heating, Cooling & Plumbing has got you covered. We vow to exceed your expectations in terms of customer service, quality workmanship, and consistency. Our prime objective is to ensure that you're completely satisfied to have chosen us. We will make great efforts to turn you into a loyal customer.
Need to repair your broken-down AC? Please call us now for the best service in town! Looking for something else other than AC repairs? We also provide AC installations, maintenance, and even furnace repairs.