First Choice AC Repair in West Linn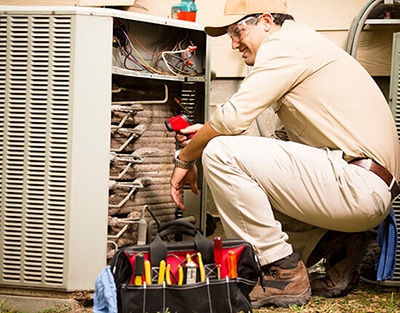 If you need a professional to help with an AC repair in West Linn, OR, consider the high-quality services offered by Central Air Heating, Cooling & Plumbing. Regardless of the make and model of the air conditioner you have in your Clackamas County home, we can get it repaired. Our technicians are highly experienced and fully committed to your comfort. You can rely on us to give every job our complete attention so that all of the important details are taken care of. We'll get every HVAC repair in West Linn done right the first time.
Our company is known for:
Top-tier technicians
Repairing all makes and models of AC units
Offering 24/7 emergency availability
Being locally owned and operated
Before we start any repair, we'll give you a cost estimate to go over and approve. We never add any hidden fees to a bill. Our goal is to keep our services accessible, so we keep our rates as low as possible. We want our repair services to be a great value for the price.
West Linn's HVAC Repair Experts
Regardless of the type of problem your West Linn air conditioner is having, technicians from Central Air Heating, Cooling & Plumbing will know just how to proceed. We'll assess your entire system and find the cause of the problem. We can explain the various ways that we could get the issue resolved.
An AC that needs repair might:
Leak and cause water damage
Not turn on
Cause an increase in your energy bills
Not cool your home evenly
To ensure our results stand the test of time, we work in a highly meticulous manner. We'll use professional tools and high-quality parts for all aspects of our work. Our technicians wear booties whenever they're inside a home to keep floors protected and clean.
Schedule HVAC Repair Today
At Central Air Heating, Cooling & Plumbing, we maintain open lines of communication with our West Linn customers. We'll take the time to answer any questions you have about your air conditioner or your options for getting it repaired. We'll always have your best interests in mind when offering advice. Our goal is to build lasting relationships with our customers by exceeding their expectations with our results.
Call Central Air Heating, Cooling & Plumbing today to learn more about the AC repair services we offer in West Linn.
You can also trust us to install and maintain cooling systems in the area. Our technicians have the training to perform heating repairs as well!