Trusted AC Repair in Tualatin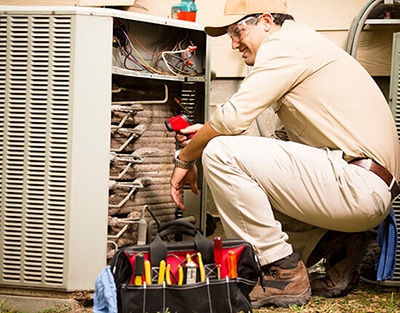 Depend on Central Air Heating, Cooling & Plumbing for all your AC repair needs in Tualatin, OR. We have been in existence since 2001. Since summers in Tualatin are warm and dry, having a company you can depend on in case of your system's emergency breakdown is essential. Our product of choice is Lennox, even though our skilled technicians can provide HVAC service for all the other models and makes. Earning our customer's loyalty through offering high-quality services is our number one priority. We make sure that our team is fully qualified before sending them to perform any job. In case of an emergency repair, our team is 24/7 available and will arrive promptly. Our goal is to leave your AC unit functioning as if it were new.
Choose us because we:
Offer fair prices
Have flexible appointment convenience
Put clients' need first
Maintain honest and open communication
Reliable HVAC Service in Tualatin
Have you noticed your Tualatin air conditioner making loud and strange noises, producing an unusual smell, having trouble starting up? It might be time to seek help from Central Air Heating, Cooling & Plumbing in Tualatin, and we will check your cooling system. If your AC unit is faulty, chances are you are paying very high energy bills.
Our technicians at Central Air Heating, Cooling & Plumbing arrive at your Tualatin home punctually, and we come in company trucks. The trucks carry the necessary parts and expert tools. This makes it easy for our team to perform the repair without compromising the quality. We identify the cause of the problem and fix it. Our highly skilled technicians continue to receive ongoing training, enabling them to solve any cooling issue in Tualatin. We are also ready to answer any queries you might have regarding the state of your AC.
Benefits of fast AC repair:
Extended lifespan of the system
Prevent further system damage
Increased efficiency
Improved performance
Schedule AC Repair With Us
At Central Air Heating, Cooling & Plumbing, we have a full team of top-tier technicians, and this gives our Tualatin customers the confidence to utilize our services. We should be the service provider you go to whenever your Tualatin cooler has an issue. Our team always respects your best interests, and we offer customized advice. You can depend on us to handle your minor issues.
Our team will always give every AC repair the attention it requires. To request HVAC service, give us a call today!
Not looking for AC repair? At Central Air Heating, Cooling & Plumbing, we also offer AC tune-up and installation services in Tualatin. When the winter rolls around, turn to us for heating repairs as well!