What Our Company is Known For
If you need a professional to help with an AC or furnace repair in West Linn, OR, consider the high-quality services offered by Central Air Heating, Cooling & Plumbing.  Our locally owned and operated company has offered experienced HVAC services in this area since 2001. We appreciate the loyalty of our customers and do our best to earn their complete trust. Consequently, they've rewarded us with an excellent reputation.
Our technicians are fully committed to your comfort and highly experienced with all makes and models of HVAC systems. You can rely on us to give every job our complete attention so that all of the important details are taken care of.
Our customers enjoy these benefits when they choose Central Air:
Experience serving the Portland area since 2001

24/7 emergency repair services

Flexible financing options on approved credit for installations

Fully licensed, bonded, and insured HVAC technicians
HVAC Repair Professionals in West Linn 
AC Repair in West Linn
When you notice that your air conditioner isn't working properly in your West Linn home, our team is ready to help. At Central Air we guarantee superb service from our experienced, NATE- Certified technicians. For your peace of mind, our technicians are also drug-tested and background checked.
When you call us for an air conditioner repair, a technician will carefully examine your air conditioner in order to determine the cause of the problem. We'll even give you a free estimate before we get started with any repairs. After diagnosing the issue, you can trust us to get things fixed properly for lasting results.
Want to see for yourself? Check out our reviews from our clients! 
Furnace Repair in West Linn
You can count on Central Air for your furnace repair needs in West Linn. Winters in Clackamas County are often cold and gray, and a broken heater could cause an unexpected increase in your energy bills or leave you in a dangerous situation. If you experience an issue, such as your pilot light going out or a system that runs too often or not at all, contact us and schedule an appointment. We have the solution!
If you are experiencing an emergency situation, we are here to help 24/7. Our trained technicians will arrive with all the necessary equipment to ensure your furnace is back and running smoothly to keep you and your family warm. 
Call Us For Service If Your Furnace or AC:
Makes strange noises

Produces unusual smells

Stops operating efficiently

Cycles on and off more than normal
Not sure what the exact issue is? Check out our list of common furnace issues that we see in the Portland metro area.
New System Installations and Replacements in West Linn, OR
AC Installation Services in West Linn
At Central Air Heating, Cooling & Plumbing, we provide first-rate HVAC installation services in and around West Linn, OR. We make great efforts to provide you with an impressive AC system that can exceed your expectations. Why should you upgrade your comfort system? An AC replacement comes with many benefits:
Higher energy efficiency

Reduced carbon footprint

Improved comfort levels

Decreased likelihood of repairs

Longer system life
Quality Furnace Replacements in West Linn
Older heating systems can develop an array of issues, including low energy efficiency. We work closely with
our customers to find a heating system that is within your budget, perfectly sized for your home, and has all of the features and efficiency you want in a new furnace. We can offer advice about any situation you're facing so that you can make an educated decision with your best interest in mind.
Reasons to consider a furnace replacement:
Current heater is outdated and needs more frequent repairs 

More reliable heating throughout your home

Higher energy efficiency and lower energy bills
Once you have decided to replace your furnace, we'll teach you how to operate and care for your new heating system. You'll also receive any follow-up support that you need after the installation.
Air Conditioning & Furnace Maintenance in West Linn 
HVAC manufacturers recommend that you schedule air conditioning and furnace maintenance at least once a year to keep your system in proper working order. In many cases, this is required to maintain your warranty. 
The inside of an HVAC system is very intricate and demands specialized attention to ensure that all moving parts are properly lubricated and free of dirt and debris. During your maintenance appointment, a skilled technician checks all parts of your AC or furnace, cleans the unit, and identifies any parts that might soon need repair. Getting ahead of future issues means that you can budget for repairs and have them carried out at a time of your choosing rather than relying on emergency repair service. Routine maintenance is also an opportunity for a technician to tweak the settings on your furnace or AC so that it runs more efficiently and helps keep your energy bills low.
Benefits of a Regular HVAC Tune-Up: 
Fewer future repairs

Increased energy efficiency

Lower energy bills

Cleaner HVAC unit

Better indoor air quality

Longer system lifespan

Reduced chance of emergency breakdowns

Improved home comfort
Zero Risk Rep
air at Central Air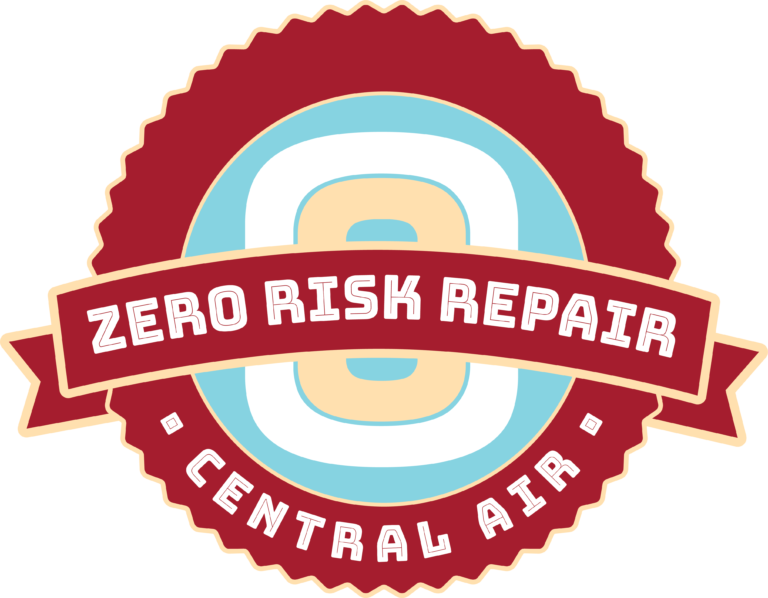 We guarantee any repair we make will last at least 1 year. Sounds pretty nice right? Read more about our zero risk repair policy! 
Let Central Air Take Care of Your HVAC Needs in West Linn
At Central Air Heating, Cooling & Plumbing, we have you covered. Call us today so we can resolve all your HVAC problems. After all, we are The People Who Care!